Balikatan 2015 to focus on maritime security not on West PHL Sea issue, say officials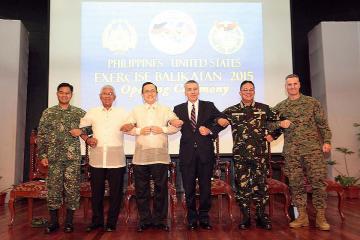 PHL-US Exercise Balikatan 2015 formally opens. Navy Vice Admiral Alexander Lopez (left to right), PHL exercise director, Defense Secretary Voltaire Gazmin, Foreign Affairs Usec. Evan Garcia, US Ambassador to the PHL Philip Goldberg, AFP chief Gen. Gregorio Pio Catapang Jr., and US Marines BGen. Christopher Mahoney, US exercise director, link arms during the formal opening of the PHL-United States Exercise Balikatan 2015 at Camp Aguinaldo on Monday, April 20. GMA News
(Updated 2:43 p.m.) Officials from the Philippine and United States armed forces participating in this year's Balikatan exercises insisted that the said activities will not zero in on possible response to the issue of the West Philippine Sea.
During the opening ceremonies at Camp Aguinaldo on Monday, some officials, including Foreign Affairs Usec. Evan Garcia and Armed Forces of the Philippines chief Gen. Gregorio Pio Catapang Jr., mentioned maritime defense and concerns in their speeches.
However, officials said in a separate press briefing after the program that the activities will not "address a specific threat."
"Every year usually we have a focus on capability and you will note as stated (during the opening ceremonies) that the focus (this year) is on maritime domain and maritime security. These focus areas (are) consistent with the defense situation. We focus on these areas because we are an archipelagic country, so the primary capability that we should have because of our geographic situation is focusing on maritime domain and maritime security," said Brigadier Gen. Rodolfo Santiago, assistant director for the AFP arm of the Balikatan exercises this year.
"It would be prudent for any country to prepare for any external threat... The defense we are developing is for all those that would like to do harm to the Philippines, as it was stated in the Mutual Defense Treaty," he added.
The Balikatan Exercises, now on its 31st iteration, will have some 11,000 participants combined from the Philippine and US military forces.
Some 70 members of the Australian Defense Force will also join in the activities, while international observers from ASEAN countries (Brunei, Cambodia, Indonesia, Laos, Malaysia, Singapore, Thailand, Vietnam), as well as Timor Leste, India, Japan, and South Korea, would also be present.
According to Santiago, the bigger number of troops participating "is a natural progression of the maturity capability development."
He pointed out that an average of 6,000 to 8,000 combined troops participate annually, except for last year, which saw only about 5,500 soldiers, because of super typhoon Yolanda's aftermath.
About 8,000 soldiers from the two military forces participated in 2013.
"Almost always the current Balikatan is declared the biggest ever... You'll see a very drastic increase if you will compare it with last year because of our activities during Yolanda. But if you will see the trend, it is really increasing every year," he said.
"We are amazed at the pace that China is reclaiming the area. It's fast, but I hope it's not furious," he said.
He added: "Some countries have reclaimed areas, but not that big. Unfortunately, the size of this (China's) reclamation makes us wonder what's the intention of this."
He said of particular concern is China's possible reclamation of the Mischief Reef, which will "cut off" the Philippines' reclamation of surrounding territories. — KG/RSJ, GMA News
More from: http://www.gmanetwork.com/news/story/472874/news/nation/balikatan-2015-to-focus-on-maritime-security-not-on-west-phl-sea-issue-say-officials