American senators want US to publicly back Philippines in sea row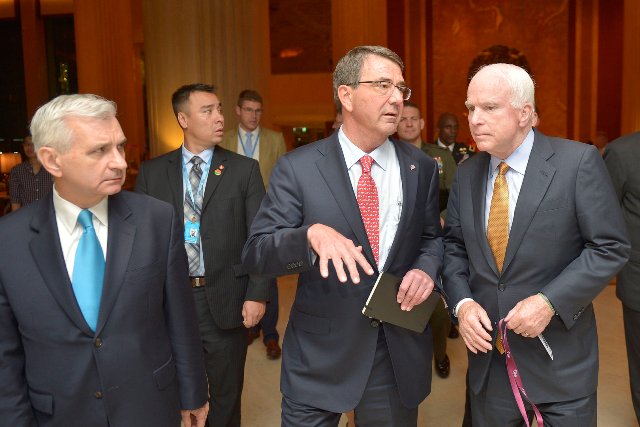 MANILA, Philippines — American Sens. John McCain and Jack Reed, chairman and ranking member of the Senate armed services committee, believe Washington should be more open about supporting the Philippines' arbitration case against China.
In a letter sent to US Defense Secretary Ash Carter late May, the senators said the American government should impose some sanctions for China's behavior in the East and South China Seas, where it is reclaiming "vast amounts of territory" across Philippine-claimed Spratly Islands.
We also believe our government should be doing far more to raise the costs of China's behavior, including more publicly supporting the Philippine United Nations Convention on the Law of the Sea arbitration case regarding the legality of China's nine-dash line claim, enhancing freedom of navigation patrols in the East and South China Sea, especially joint patrols with allied states, and a more robust train and equip program to help build the maritime domain awareness and coastal sea-denial capabilities of states like the Philippines.
They also asked that China's invitation to the 2016 Rim of the Pacific military exercises be revoked. The annual exercise, the world's largest international maritime warfare training, is led by the US and regularly participated by China's rival maritime claimants Japan and the Philippines.
"Given China's behavior in the past year alone, including its disregard for the interests of our allies, international law, and established norms, we do not believe Beijing should have been invited to this prestigious US-led military exercise in 2016," they said.