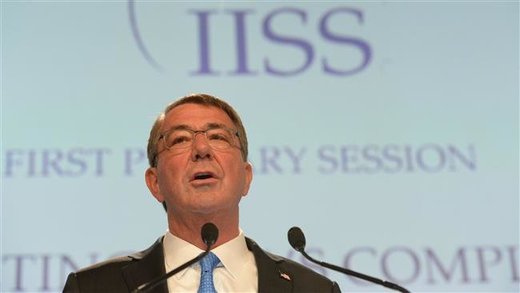 Defense Secretary Ashton Carter has warned China that the United States will remain the most powerful military and the main guarantor of regional security, while offering closer cooperation with Beijing to establish a "principled security network" across the Asia Pacific.
In a speech to an international security forum in Singapore, Carter criticized China for unnerving its neighbors with expansive moves to build land features in the South China Sea.
"There is growing anxiety in this region, and in this room, about China's activities on the seas, in cyberspace, and in the region's airspace," he said.
"Indeed, in the South China Sea, China has taken some expansive and unprecedented actions, that have generated concerns about China's strategic intentions," he added.
The Pentagon chief also tried to allay concerns in Asia about US staying power, describing the US approach to the region as "one of commitment, strength and inclusion."
The United States has dramatically increased its military maneuvers across the South China Sea over the past months, prompting angry protests from China.
Washington is concerned that China is extending its military reach in the South China Sea by developing man-made islands which could house military airfields and weapons systems.
"Unfortunately, if these actions continue, China could end up erecting a great wall of self-isolation," Carter said in his speech.
However, Carter underscored possibilities for stepping up security cooperation with China.
"Even as the United States will remain the most powerful military and main underwriter of security in the region for decades to come - and there should be no doubt about that - those growing bilateral relationships demonstrate that nations around the region are also committed to doing more to promote continued regional security and prosperity," he stated.
"America wants to expand military-to-military agreements with China to focus not only on risk reduction, but also on practical cooperation. Our two militaries can also work together," Carter said.
The Pentagon chief said the "principled security network" he envisaged involved "nations building connections for a common cause" and represented "the next wave in Asia Pacific security."
Carter said that the US and Laos will co-host a meeting of defense ministers from across the Asia Pacific in September to find new ways to broaden and deepen security cooperation.
Carter's speech comes ahead of a ruling expected in coming weeks on a case brought by the Philippines in the International Court of Arbitration challenging China's South China Sea claims.
The United States has been pressuring Asian and other countries to support the judges' statement that their ruling must be binding.