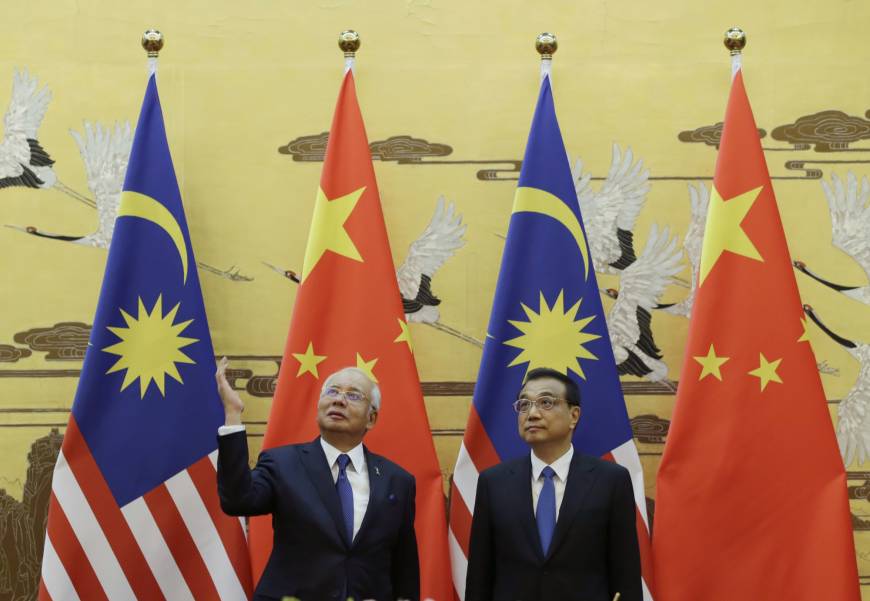 Besieged Malaysian leader vows to cooperate with Beijing in South China Sea, declares purchase of warships
AP, KYODO, REUTERS
BEIJING/KUALA LUMPUR –
China and Malaysia said their navies will cooperate more in the politically sensitive South China Sea in an agreement signed Tuesday during a visit by Malaysia's leader, who is seeking stronger ties with Beijing as he tries to offset a financial scandal at home.
Prime Minister Najib Razak hopes to use his visit to Beijing this week to woo new investment and boost his image as he is shunned by Western leaders over the scandal, which has prompted a U.S. government investigation, analysts say.
He was given a red carpet welcome Tuesday by his Chinese counterpart, Li Keqiang. After meeting at the Great Hall of the People, they oversaw the signing of agreements, including a memorandum of understanding on defense cooperation.
"We have not touched upon the details of our cooperation. Mostly we are focusing on naval cooperation," Vice Foreign Minister Liu Zhenmin told reporters afterward. As China and Malaysia are both South China Sea coastal nations, "we need to enhance our naval cooperation to ensure peace and stability in the South China Sea and enhance our mutual trust," he said.
Beijing asserts that virtually all of the South China Sea is Chinese territory, but an international tribunal ruling in July invalidated those sweeping claims. China has ignored that ruling. Six other Asian governments also claim part of the South China Sea, and some observers see it as a potential flashpoint that could spark conflict one day.
Najib is the second leader of a nation with rival territorial claims in the South China Sea to visit Beijing in two weeks. The first, Philippine President Rodrigo Duterte, played down his country's dispute with China.
The international tribunal case was initiated by Duterte's predecessor, and Duterte has sought to cast himself as far more conciliatory, an approach that appears to have paid off. While Chinese coast guard ships continue to guard a tiny, uninhabited shoal that China effectively seized in 2012, Filipino fishermen have been allowed to fish there for the first time in four years.
Malaysia claims a swath of the South China Sea north of Borneo, along with islands and reefs, but has been relatively understated amid the feuding among fellow claimants China, Vietnam and the Philippines.
Last month, Najib said Malaysia will not compromise on its South China Sea claims, but wants them to be hashed out through dialogue and peaceful negotiations.
Liu said Najib agreed with the Chinese premier "to further advance the proper settlement of the South China Sea issue on a bilateral channel and through dialogue." Beijing always prefers negotiating disputes on a one-to-one basis with the countries concerned, so it can bring more pressure to bear.
Liu said the two sides also agreed to enhance cooperation in infrastructure, agriculture, trade, investment and law enforcement, and will work together to build an east coast railway link in Malaysia and an oil and gas pipeline in Sabah. All this cooperation "will bring our relations to a new high," Liu said.
Najib is to meet President Xi Jinping on Thursday.
Najib has been implicated in a U.S. government investigation into massive fraud at a Malaysian investment fund he founded known by the initials 1MDB. The U.S. Department of Justice said in a lawsuit seeking to seize assets in the U.S. that at least $3.5 billion was stolen from the fund and diverted through a web of shell companies and bank accounts in Singapore, Switzerland, Luxembourg and the United States.
Malaysia's attorney general has defended Najib, even as his popularity at home has plummeted in recent months.
James Chin, director of the Asia Institute at Australia's University of Tasmania, said Najib wants to attract more Chinese money to make up for a drop in foreign direct investment from Western countries spooked by the scandal. He said Najib also wants to show that "there are still powerful countries around the world that are still willing to give him the five-star or red carpet treatment."
"He's showing the Malaysian domestic audience that a new upcoming power like China is still willing to host him, because it is quite obvious that he can't get the same treatment in Western capitals anymore," Chin said.
While Najib has more riding on the visit, the Chinese government is also eager to increase its clout with Malaysia as it looks to develop its "One Belt, One Road" initiative. Under Xi's signature foreign economic expansion strategy, China aims to strengthen land and sea links and bilateral cooperation with the rest of Asia, Africa and Europe. One part of that is a planned high-speed railway from Singapore to the southwest of China that will pass through Malaysia.
"China for its part wants to be closer to Malaysia in economic and political terms because it's trying to draw Malaysia into its sphere of influence," Chin said.
Relatives of Chinese passengers on Malaysia Airlines Flight 370, which vanished in 2014 en route to Beijing, are clamoring to meet with Najib during his visit. About 10 relatives went to the Foreign Ministry and later to the Malaysian Embassy on Tuesday.
Najib said Friday after talks with Chinese Premier Li in Beijing that Malaysia will buy four naval ships from China, local media reported.
Two of the littoral mission ships will be built in China and the other two in Malaysia, Najib, who arrived in China on Sunday for a weeklong visit, told a press conference with the Malaysian media, according to the official Bernama News Agency.
"We have not bought anything worthwhile from the Chinese yet in terms of military equipment. This is a landmark decision that we have made," the prime minister was quoted as saying by the New Straits Times newspaper's online edition.
"If the contract meets the requirements and satisfaction of the navy, the number of vessels can be increased in future," he said.
Najib also said Malaysian and Chinese companies signed 14 agreements The vessels are known as littoral mission ships, small craft that operate close to shore.
Last week, Malaysia's defense ministry said in a posting on social media that the country would sign a contract to purchase patrol vessels from China during Najib's week-long visit, but the post was later removed.
The move marks Malaysia's first significant defense deal with China at a time of rising tension in the South China Sea.
"Leaders of the two sides agreed to further advance the proper settlement of the South China Sea issue with dialogue through a bilateral channel," Chinese Vice Foreign Minister Liu Zhenmin told reporters at Beijing's Great Hall of the People where Li and Najib met.
"Obviously the launching of naval cooperation between the two sides is significant for our bilateral ties. It's a reflection of the very high level, mutual political trust between our two countries," Liu said.
He gave no other details on the deal.
Littoral mission ships can be equipped with a helicopter flight deck and carry missiles. They are primarily used for coastal security, maritime patrol and surveillance, but can also be deployed for disaster relief and search and rescue operations.
China claims most of the South China Sea as its territory. But Brunei, Malaysia, the Philippines, Taiwan and Vietnam also have rival claims to parts of the waterway, which commands strategic sea lanes which carry some $5 trillion worth of trade a year.
Najib's visit follows that of Duterte, who announced the country's "separation" from the United States and signed a raft of memoranda of understanding for Chinese investment in the country.
The push to strengthen China ties comes after July lawsuits filed by the U.S. Justice Department implicating Najib in a money-laundering scandal. Najib has denied any wrongdoing and said Malaysia will cooperate in the international investigations.
"I think there's a mischaracterization here. There's no such thing as using our financial muscle to improve ties," Liu said in response to a reporter's question on the issue.
Both nations also signed deals for collaboration to build rail projects in Malaysia, which included the 55 billion ringgit ($13.2 billion) East Coast Rail Line.
Najib told Malaysian state news agency Bernama that both countries had made a historic achievement by signing 14 agreements totaling 143.64 billion ringgit ($34.4 billion).