Golez: Balikatan without war games? Balikatan is tied to the Mutual Defense Treaty (MDT) of 1951. The MDT is for external defense, for an attack by a third party in our territory. It is not for terrorism which is not an external threat, unless the ISIS or the like comes in full force in long convoys from the sea to hit our beaches. Balikatan without war games is like a basketball team preparing for a big game by going to a school and interacting with the kids to make them happy. Great PR work but it won't help win games. No war games won't help a bit in our military sharpening its war making skills which is what the military is for. The military won't win wars by learning how to repair schools. We are wasting so much opportunity to upgrade the fighting ability of our military.
War games dropped from Balikatan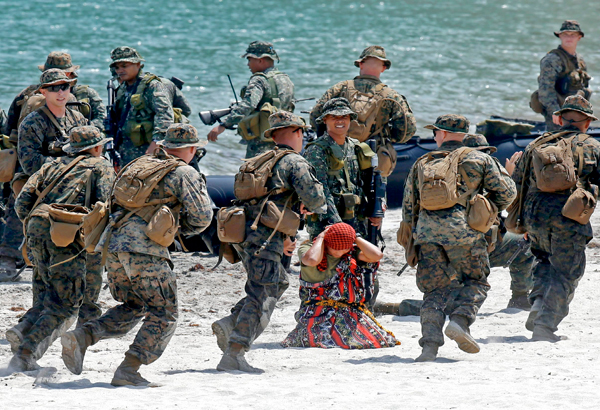 ORMOC CITY, Philippines – War games have been dropped from the Balikatan exercises scheduled next month here and in Guiuan, Eastern Samar, according to the Presidential Commission on the Visiting Forces Agreement (PCVFA).
Instead, the visiting United States forces would partner with the Philippine Army in constructing classrooms in two schools in Ormoc and one in Guiuan. They will also conduct community relations activities like health education and veterinary services.
In an orientation here last Thursday, Undersecretary Pedro Cesar Ramboanga of the PCVFA identified Gaas, Don Carlos Rivilla, Margen and Nueva Vista in Ormoc; Surok and the Felipe Abrigo Memorial Hospital in Guiuan as the barangays and institution where the troops would work.
The soldiers will construct a two-classroom building each in Gaas, Don Carlos Rivilla and Surok and conduct health education in Margen and Nueva Vista. They will also hold a medical seminar at the Felipe Abrigo Memorial Hospital. It was emphasized that the Balikatan would be an "exchange of skills and technology."
The US soldiers will be restricted to their quarters to avoid a "Pemberton-like" incident from happening again, referring to the conviction of US Marine Joseph Scott Pemberton for the killing of transgender woman Jennifer Laude.
In the event that they are allowed to go out, they would be escorted by the Philippine Army.