Golez: The US and Japan are ironclad allies under their Treaty of Mutual Cooperation and Security as amended in 1960. An attack on one is considered an attack on the other.
Japan has a very modern and powerful Navy which includes several Aegis destroyers (Atago and Kongo class) that can protect a carrier and other targets from missile attack.
"The Aegis Ballistic Missile Defense System (Aegis BMD or ABMD)[1] is a United States Department of Defense Missile Defense Agency prog
ram developed to provide missile defense against short to intermediate-range ballistic missiles. It is part of the United States national missile defense strategy. Aegis BMD (also known as Sea-Based Midcourse) is designed to intercept ballistic missiles post-boost phase and prior to reentry.
"It enables warships to shoot down enemy ballistic missiles by expanding the Aegis Combat System with the addition of the AN/SPY-1 radar and Standard missile technologies. Aegis BMD-equipped vessels can transmit their target detection information to the Ground-Based Midcourse Defense system and, if needed, engage potential threats using either the SM-2 or SM-3 missile.[2][3] Aegis BMD does not have the ability to intercept ICBMs, although future versions may allow limited intercept capability.[4]
"The current system uses the Lockheed Martin Aegis Weapon System and the Raytheon RIM-161 Standard Missile 3 (SM-3). Notable subcontractors and technical experts include Boeing Defense, Space & Security, Alliant Techsystems (ATK), Honeywell, Engility, Naval Surface Warfare Center, SPAWAR Systems Center, Johns Hopkins University Applied Physics Laboratory (JHU/APL), and the Massachusetts Institute of Technology Lincoln Laboratory (Lincoln Lab)."
US carrier heading for Korea trains with Japanese destroyers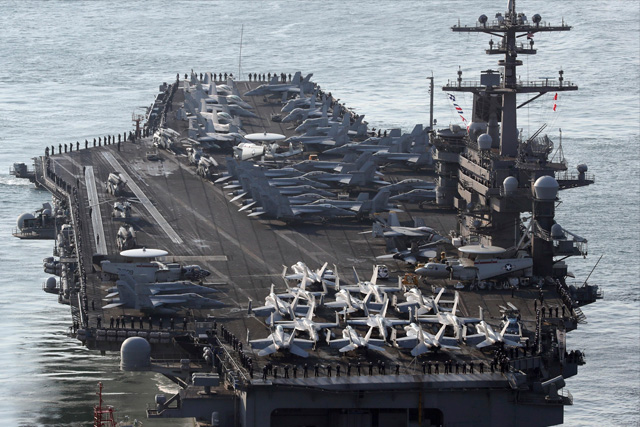 TOKYO — An American aircraft carrier heading toward the Korean Peninsula began joint exercises Sunday with Japanese naval ships in the Philippine Sea.
Two Japanese destroyers joined the USS Carl Vinson and two other U.S. warships as they continued their journey north in the western Pacific Ocean, the U.S. Navy said in a statement.
The Vinson had canceled a scheduled visit to Australia to divert toward North Korea in a show of force, though it still conducted a curtailed training exercise with Australia before doing so. Tensions are elevated on the Korean Peninsula, with the Trump administration saying that all options are on the table, and indications that North Korea may be preparing to test a nuclear weapon or long-range missile.
Two Japan Maritime Self-Defense Force destroyers left Sasebo port in southern Japan on Friday to join the Vinson strike group. The U.S. group also includes a guided-missile cruiser and a guided-missile destroyer.
The Navy called the exercise "routine" and said it is designed to improve combined maritime response and defense capabilities, as well as joint maneuvering proficiency.
The Vinson group has conducted three previous bilateral exercises with the Japanese navy since leaving San Diego on Jan. 5 for a western Pacific deployment. The most recent one was in March.