Golez: Whether we should have a Philippines-China military exercise anywhere inside Philippine territory should be decided exclusively by three reasons: National Security, National Security and National Security. Not railways, not $24 billion,not friendship, but National Security alone.
Security council studying proposal on Philippines-China military drills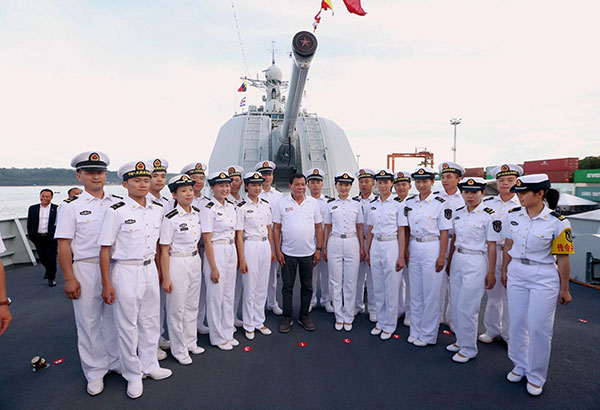 MANILA, Philippines - The National Security Council is studying President Duterte's proposal for joint military drills with China, even as it admitted such arrangement would require a treaty or a deal similar to the Visiting Forces Agreement (VFA) with the US.
"In joint exercises, you must have a joint – you must have a visiting forces agreement and probably, a treaty, a treaty if there need be and other requirements like delineation of exercise areas," national security adviser Hermogenes Esperon Jr. told a Palace press briefing yesterday.
He said he and other Cabinet officials began looking into Duterte's proposal right after the departure of three Chinese naval vessels from Davao City over the weekend after a port call.
Esperon said they will discuss the matter in the next Cabinet meeting on May 8.
To join the discussion are members of the security cluster, especially the Department of National Defense.
If the President really wants joint drills with China "then we will do it," Esperon stressed.
"But for now, we don't have joint patrols with any nation," he said. "The joint patrol we're doing now is part of our trilateral agreement with Malaysia and Indonesia to cover the Sulu Sea, primarily Tawi-Tawi."
He said such joint operation with Indonesia and Malaysia was meant to stop kidnapping in the high seas.
"That's what's happening now. And, we are likely to allow crossing of borders, coordinated crossing of borders. It's easy, we're Asians," he pointed out.
"They are affected by that problem, we are affected by that problem," Esperon said, referring to kidnapping.
Esperon also said that despite China's protest, repair work on airstrips and other facilities on Pag-asa Island in the Kalayaan Island Group will proceed in accordance with the President's instructions.
"It stays, as decided upon in the National Security Council and in the Cabinet," Esperon told reporters.
He rebutted China's claims over Kalayaan, saying the island group has been a Filipino community since 1978.
"The center of that municipality is Pag-asa," he said, pointing to the location of the island on a map.
"We have an airstrip here – 1.3 kilometers and its tip is eroding," he said. After repairs, the airstrip will be able to accommodate C-130 cargo aircraft.
Pag-asa is some 14 nautical miles from Kagitingan (Fiery Cross) Reef where China maintains an airstrip.
"But remember, if we have nine islands or locations, detachments, China has seven, all reclaimed, artificial. And Vietnam has 27," Esperon said.
In the same briefing, Esperon defended Duterte's pivot to China as well as his decision to disregard at the moment the July 2016 ruling of a UN-backed arbitral court invalidating Beijing's massive claims in the South China Sea and reaffirming Manila's maritime entitlements.
"They said we got nothing from our victory in the tribunal. We gained the friendship, warming of relations and some economic development," he said.
He also cited China's offer to help the Philippines rebuild the railway system between Manila and Bicol.