Trader claims paying P92-M bribes to BOC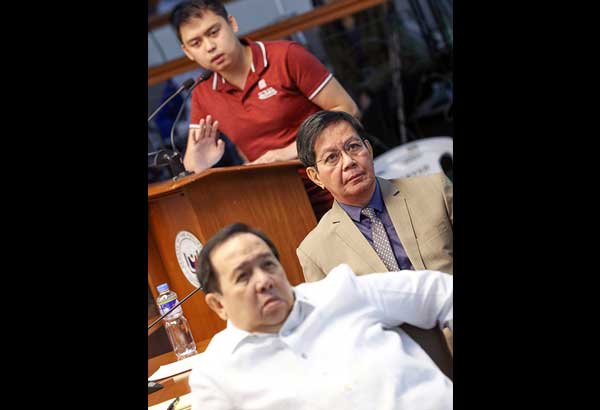 MANILA, Philippines — Broker Mark Taguba, who is among those implicated in the smuggling of P6.4 billion worth of drugs from China last May, claimed yesterday that he gave a total of P92 million in bribes to former Bureau of Customs chief Nicanor Faeldon and other corrupt officials in less than a year that he was doing business at the BOC.
Testifying at the resumption of the inquiry of the Senate Blue Ribbon committee into the reported corruption at the bureau, Taguba made a PowerPoint presentation on calls, text messages and bank statements on his transactions with BOC officials since he began as a "player" or fixer in August last year, until he stopped last June after the drug shipment was seized by Customs Intelligence and Investigation Service operatives in Valenzuela City.
Taguba had estimated that he was pushing 100 shipping containers a week, and paying P27,200 in tara or bribe per container to several corrupt BOC officials.
He paid out a total of about P92 million from August to early June.
Sen. Panfilo Lacson, who earlier delivered a privilege speech, said Taguba is just one of 44 players at the BOC who all pay tara to release each container they bring in through the country's ports and Faeldon gets a share for each.
Shipments covered by bribes are allowed to pass through the "green lane" or express lane where they are not subjected to inspection.
Lacson also said the tara does not end there, since some shipments already facilitated by the fixers or have passed through the green lane are put on "alert" or issued "stop orders" for which the brokers need to pay more.
But what will pin down Faeldon, Lacson said, was the issuance of special stop orders on shipments that can only be authorized by the office of the BOC commissioner.
In his presentation, Taguba showed some "stop orders" on some of his shipments that he had asked to have lifted using his connections in the BOC.
Estimated cost per container is about P170,000 of which about P60,000 goes to the shipping line; container deposit, P15,000; arrastre P9,235; trucking, P10,000; duties and taxes, P40,000.
The remaining P27,200 is the grease money, divided among various offices including the port collectors, BOC X-ray division, Import Assessment Services, Intelligence Group, Formal Entry Division, Enforcement and Security Service, and the Assessment and Operational Coordinating Group.
"That's what I call double tara or two-face. You imposed tara, it (shipment) was brought to the green lane and processed, and they're imposed tara again by issuing a special stop order," Lacson said.
Meanwhile, three more individuals tagged in the smuggling of the P6.4-billion shabu shipment seized last May yesterday denied criminal charges before the Department of Justice (DOJ).
In preliminary investigation hearing, Customs brokers Taguba and Teejay Marcellana and Filipino-Chinese businessman Chen Ju Long alias Richard Chen all submitted their counter-affidavits denying charges of importation of illegal drugs under Republic Act 9165 (Comprehensive Dangerous Drugs Act).
They asked investigating Assistant State Prosecutor Aristotle Reyes to dismiss the complaint filed by the National Bureau of Investigation (NBI) for lack of probable cause.
In the hearing last Sept. 18, two other respondents – Dong Yi Shen alias Kenneth Dong and importer Eirene May Tatad – appeared before the DOJ and also submitted counteraffidavits denying the charges.
Reyes said the rest of the respondents who failed to appear before the DOJ – including Li Guang Feng alias Manny Li and Taiwanese nationals Chen Min and Jhu Ming Jyun – have lost their opportunity to answer the charges and the complaint against them was considered submitted for resolution.
The prosecutor said similar complaints filed by the Philippine Drug Enforcement Agency against former commissioner Faeldon and other Customs officials would be consolidated with the NBI complaint.
"This will avoid conflicting decisions on the complaints," Reyes told reporters in an interview after the hearing.
In its complaint, the NBI alleged that Chen tapped Li for the processing of the release of the shipment declared as kitchenware, footwear and moldings from the BOC. Li then tapped Dong to look for a customs broker to facilitate the release.
Dong later contracted Taguba, who has been testifying in congressional inquiries about the drug smuggling case, and Marcellana as brokers.
Tatad owns the EMT Trading, which was used by the brokers as importer or consignee for the shipment.
Chen Min and Jhu were identified by Chinese authorities as the real owners of the shipment. Their alleged local contact, Fidel Dee, was arrested by authorities upon receiving the contraband.
Apart from drug charges, Li, Dong and Taguba were also charged with unauthorized practice of customs broker profession under Republic Act 9280 (Customs Broker Act) after it was found that they did not have necessary license from the BOC.
The drug shipment arrived at the BOC last May 17 and was released from port on May 23.
Both Chen and Li denied having any knowledge that there were drugs in the shipment, initially declared as kitchenware, footwear and moldings.
Newly installed BoC commissioner Isidro Lapeña warned officials and employees of the bureau that tara or bribe is illegal.
"I know arithmetic, as I know the correct valuation of goods. If any of you hindi sumunod sa tamang (do not follow the right) valuation, you are giving me the reason to do what you don't want to happen to you," Lapena said at the Ninoy Aquino International Airport (NAIA) yesterday.
He said that now is the time to "rebuild our image, we will fight corruption, improve the services" of the embattled bureau.
"There will be no more tara, no gift policy and no benchmarking. I was also able to talk to stakeholders, that they can pay the right taxes due the government," he added.
Lapeña also said there are promotions forthcoming to some 587 positions in the BOC that need qualified personnel at the Collection District III.
Seniority will be the priority in the promotion, he said, because some employees who have been in the bureau for decades have not been promoted.
Lapeña awarded a plaque of recognition to NAIA BOC district collector Ed Macabeo who is retiring this month after 36 years of service with "honor." -With Edu Punay, Rudy Santos