Nene: China decision on shoal an act of ownership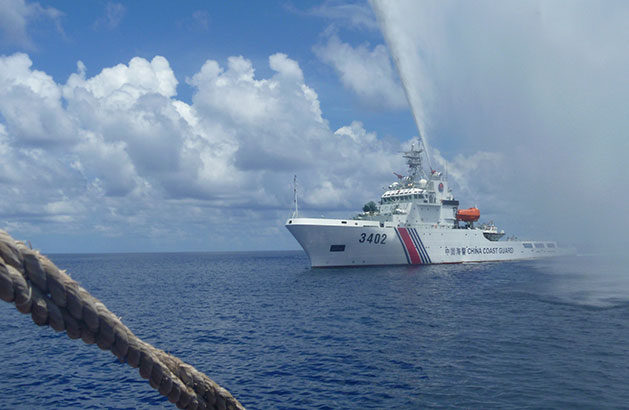 MANILA, Philippines – The Chinese decision to let Filipino fishermen back in Panatag Shoal is "an act of ownership," former senator Aquilino Pimentel Jr. said yesterday.
"Giving permission is an act of ownership, it should not stop our claim of ownership over the shoal," he told The STAR.
The former senator and founder of PDP-Laban, which fielded then Davao City mayor Rodrigo Duterte as its standard bearer in the May elections, said the Philippines should consider raising the issue before an international tribunal in accordance with the UN Convention on the Law of the Sea and other applicable pacts.
"It is not enough that China now gives the impression that it is giving 'permission' to our fisherfolk to fish in the waters around the shoal… giving permission is an act of ownership, it should not stop our claim of ownership over the shoal," he said.
Pimentel also expressed hope the foreign policy bias of the Duterte administration for China and Russia should not mean a degradation of ties with traditional allies like the United States. "Making friends is better than creating enemies."
The senator stressed "we should take the word of the President that in his advocacy for an independent foreign policy we are not cutting ties with US and other countries like Japan with which the Philippines has existing treaties."
He said treaties define the Philippines' ties with the US and other countries.
"More specifically, the President knows that in terms of national security we cannot defend our sovereignty by our lonesome, we need allies who have proven their worth as friends," Pimentel pointed out.
A Duterte ally, Sen. Alan Peter Cayetano, said the President would never compromise Philippine sovereignty even as he continues to build better ties with Beijing.
Cayetano, chairman of the Senate foreign relations committee, also asked critics not to put political color to China's lifting its blockade of Panatag.
"There was no compromise on both sides, nobody is conceding anything, and the administration will never compromise our sovereignty," Cayetano said in a telephone interview. The senator was part of Duterte's entourage in the recent state visit to Beijing.
Days after his return from China last Oct. 21, Filipino fishermen were able to enter Panatag Shoal unmolested by the Chinese and returned with bountiful catch.
"Let's not get stuck with terminologies on who allowed what. Let's be careful on what we say because it will affect our fishermen," Cayetano said.
He said in territorial disputes all over the world, claimants are careful in their choice of words as they could be used against them in the future.
"He (Duterte) is just being practical in his approach in building goodwill," Cayetano said.
The senator emphasized the country's relationship with China is multi-faceted – educational, cultural and agricultural, among others – and that "sovereignty issues are the hardest to tackle."
Senate Majority Leader Vicente Sotto III, for his part, said the latest development at Panatag Shoal could be the start of many concessions that Duterte may secure from China. – Paolo Romero